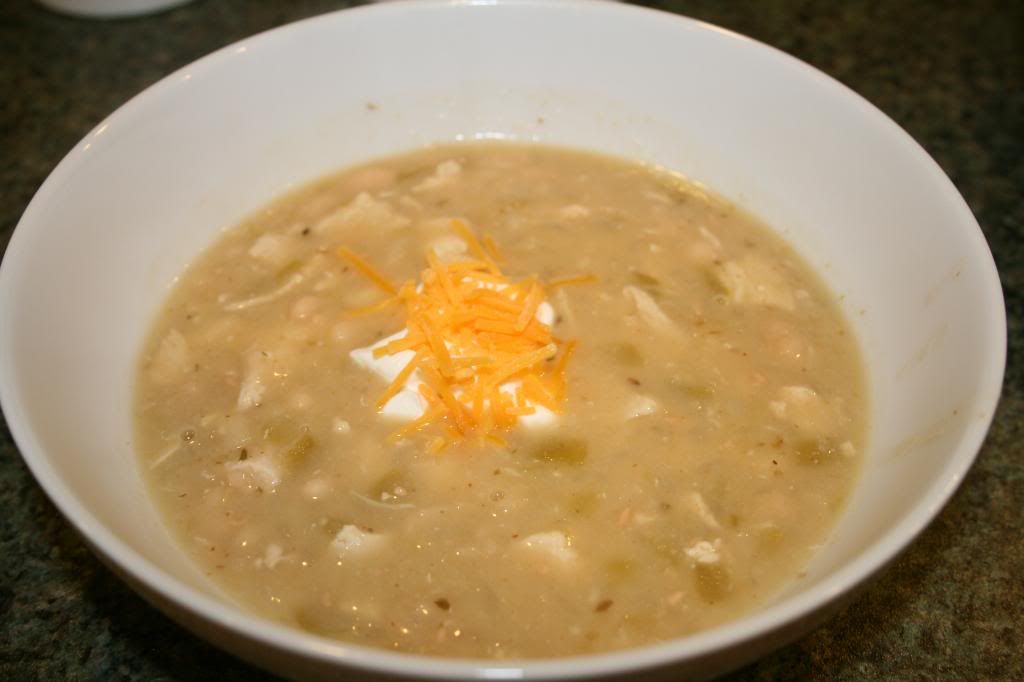 Ok, so I actually made this on Monday (not that you care) to start off the "feel like home" week for Carl. I call his dad Big Carl, since they call my Carl, Little Carl. So "Big Carl's White Chicken Chili" it is! I'd say I hit the nail on the head with this one!
1 1/2 -2 pounds cooked boneless, skinless chicken- cubed (I just cook mine in a little water in a skillet)
2 14oz cans of chicken broth
1 480z can of white northern beans
2 c finely chopped whit onion
2 tbsp fresh minced garlic
1 small can chopped green chilis
2 tsp cumin (heap if you like it hot)
2 tsp oregano
1/4 tsp cayenne pepper (more if you like it hot)
Saute onions and garlic in 1 tbsp olive oil until onions are tender. Stir in the green chilis.
Mix all into big pot with the chicken. Heat until boiling, simmer for 10-15 minutes. The longer you cook it, the more tender the chicken will get.
My Notes: This is the perfect fall recipe! Drop a spoonful of sour cream and sprinkle with cheese for the ultimate flavor explosion! It makes enough to feed 6 adults easily. We had this two nights in a row and then I took the remainder to work and shared with a co-worker. He was also a huge fan. We will definitely make this again and again!