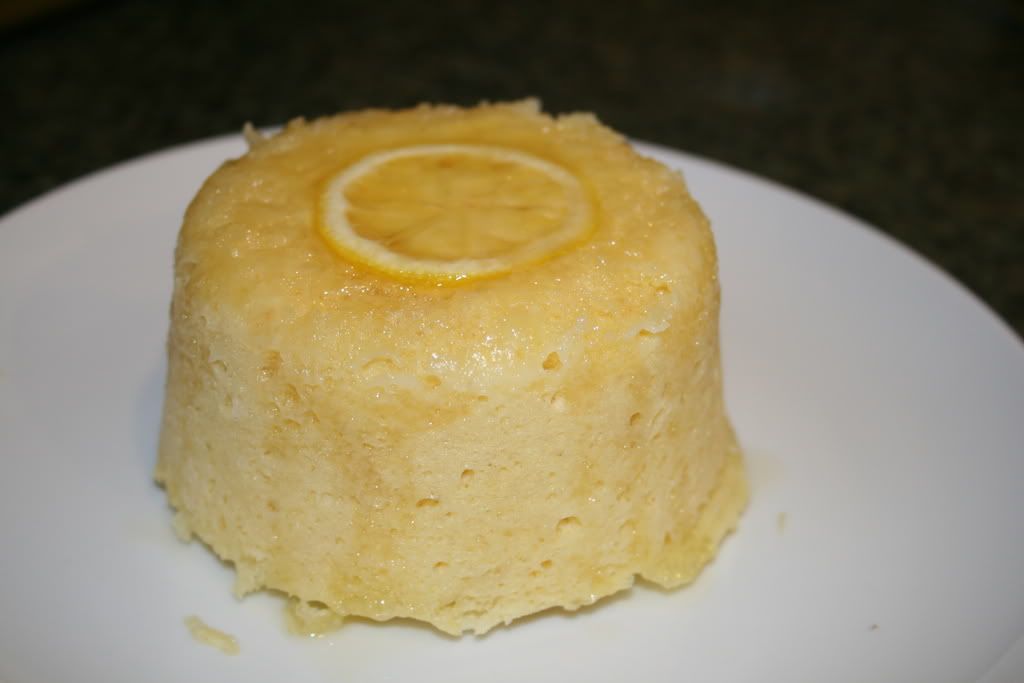 We skipped dessert last night...oh the horror! So tonight had to be better than a stale cookie. I picked this one out of the "Season's Best 2008 Spring/Summer" from Pampered chef.
Cakes
2 T butter, softened & divided
2 T sugar
2 small lemons, divided
1 pkg (9 oz.) yellow cake mix
1 egg
1 8 oz. container sour cream
Glaze
2 T lemon juice (from lemon used for cakes)
2 T butter
1/4 C sugar
1. For cakes, brush 6 Prep Bowls with 1 T butter; sprinkle with sugar. Thinly slice one of the lemons. Remove any seeds from the lemon slices and place one slice in the bottom of each bowl; set bowls aside.
2. Zest remaining lemon and measure 1 T of zest; set lemon aside for glaze. Place remaining 1 T butter into microwavable bowl; microwave on high 15-20 seconds or until melted. Add lemon zest, cake mix, egg, and sour cream; whisk 1 minute or until smooth (batter is pretty thick). Scoop batter evenly into prepared bowls. Place bowls in circle on microwave turntable. Microwave on high 4-5 minutes or until wooden pick inserted in centers comes out clean (cake still looks slightly wet). Carefully remove cakes from microwave; cool in bowls for 5 minutes.
3. Meanwhile, for glaze, juice reserved lemon to measure 2 T juice. Melt butter. Stir in lemon juice and sugar; microwave on high 30-60 seconds or until boiling.
4. To serve, gently tap sides of bowls to release cakes. Transfer to serving plates and drizzle glaze over cakes.
Notes: Ok, so this is the sitch. I had the precious 6 prep bowls this recipe refers to, but somewhere along the way, I've ended up with like 4...and 1 of them wasn't available. Time to improvise!! Since there was only two of us, I just split the batter between my two smallest pyrex bowls- my guess is they are about a 4 cup size. I also made the mistake of not realizing that a standard cake box is about 18 oz- not 9 oz. That changes a lot! ;) Anyway, I made it work and they were delicious.