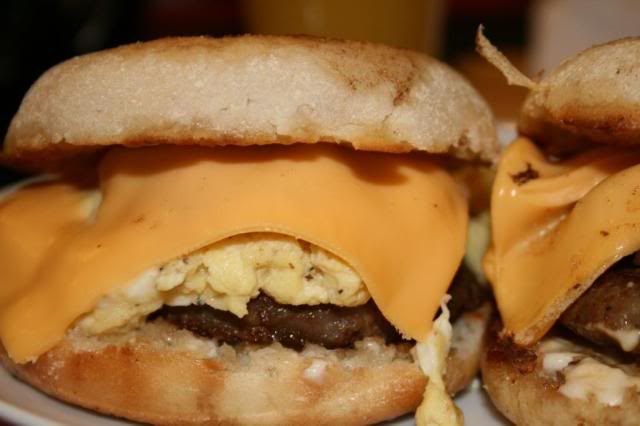 So...I haven't updated in forever. No, I have not given up on cooking, but we have been trying to keep our new Coney Island in business. Anyway, stop yelling at me or I'll never update again! Here we go.....
Ok, so I saw
Pioneer Woman make this breakfast sandwich
, and it looked so good that I stopped on my way home from work to get the ingredients. I couldn't stop thinking about it...and so rather than waiting until morning, I made it for dinner! Then when Carl got home at the end of the week, I made them again for breakfast. We both LOVED them!
4 slices of Texas Toast (I used English Muffins)
2 Eggs
2 slices of Kraft Cheese
2 Breakfast Sausage Patties
Jarred Jalapeños
Milk
Mayo (I used Miracle Whip)
A whole lot of butter...mmmm
1. Start to warm up your griddle- either on the oven, or like I use, my stand alone griddle. Fry the sausage patties in a fry pan on the stove, smooshing while you cook them so they flatten a bit. Then set them aside- I put them on a plate and in the microwave so they stay warm. While the sausage is cooking, whisk your eggs with some milk, salt and pepper and set aside.
2. Put some butter on the griddle and fry up the jalapeños, set aside. Coat your griddle with butter again and put your bread or muffins on the griddle. While those are grilling up, pour your egg mixture into the sausage pan...sans sausage of course by now and fold the eggs as they cook. The key is to NOT scramble them but rather create more of an omelet format so you can layer it on the sandwich and it won't fall apart on you.
3. Finally...its time to layer!!! Remove your bread product from the griddle, smear on your Miracle Whip...or if you insist, regular mayo. Then put the sausage patty, layer with egg, top with jalapeños and a slice of good ol Kraft cheese and of course finally another piece of bread. Tada! Delicious breakfast- or if you just can't wait that long, dinner!
ENJOY!