What do you do when you normally don't host more than 12 people for dinner at a time and you realize you are about to host 18? You improvise!
I hosted a
Mock Thanksgiving in 2009
, then took a year off because I couldn't see my feet last Thanksgiving. This year, I wanted to bring it back in style! I invited 17 of my favorite ladies to join in a holiday dinner without the family politics :) Oh and all the mommas left the babies with the husbands. Including me. Carl took Cam AND Gibson to his parents' house.
But I'm getting ahead of myself.
Scene: Friday Night. Carl and I are in the living/dining room trying to figure out how to seat 18 people.
Our dining table and two 6ft folding tables later, we came up with a solution. In my head, I needed it to be symmetrical, so we created one long table. It was hard to photograph the whole thing, but I think we succeeded in 1. it being symmetrical and 2. it not looking like a soup kitchen (right Tricia?). I didn't buy anything new for decor, I just used what I had- a mix of decorative basket filler, stones, faux leaves, candles and ribbon seems to do the trick. The glass candleholders were bought for our wedding and I've used them countless times now!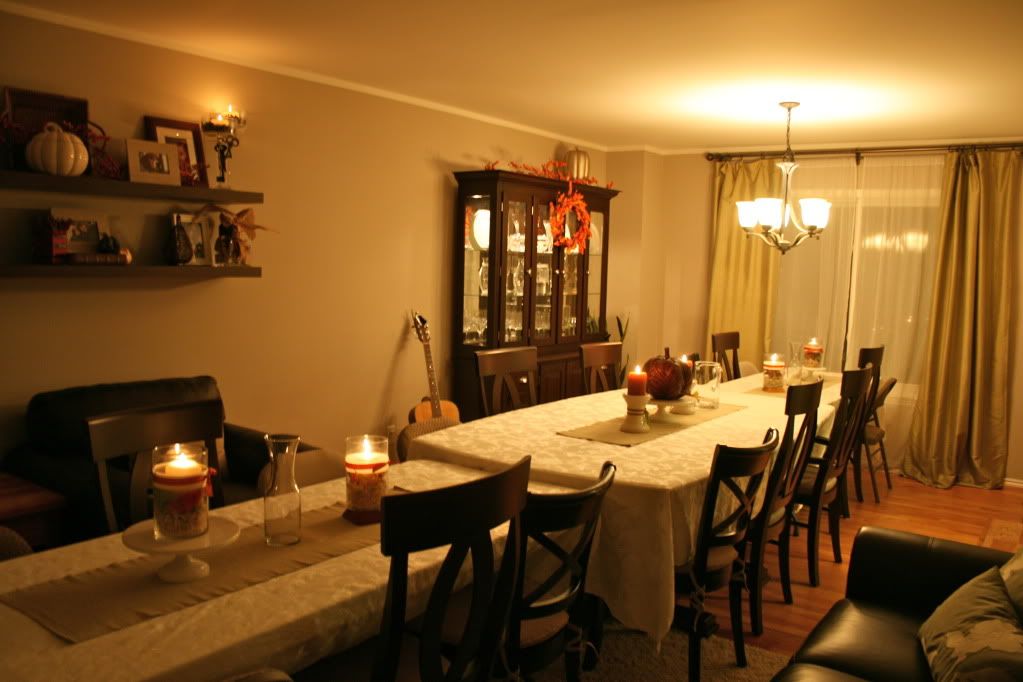 I created little name cards for all the dishes being brought. This way, people knew who made what.
Drink Station + Tricia:
Hot cider (
like we did for the game night party
), seasonal beer, wine, liquor and soda.
The sideboard was prepped and awaiting the desserts: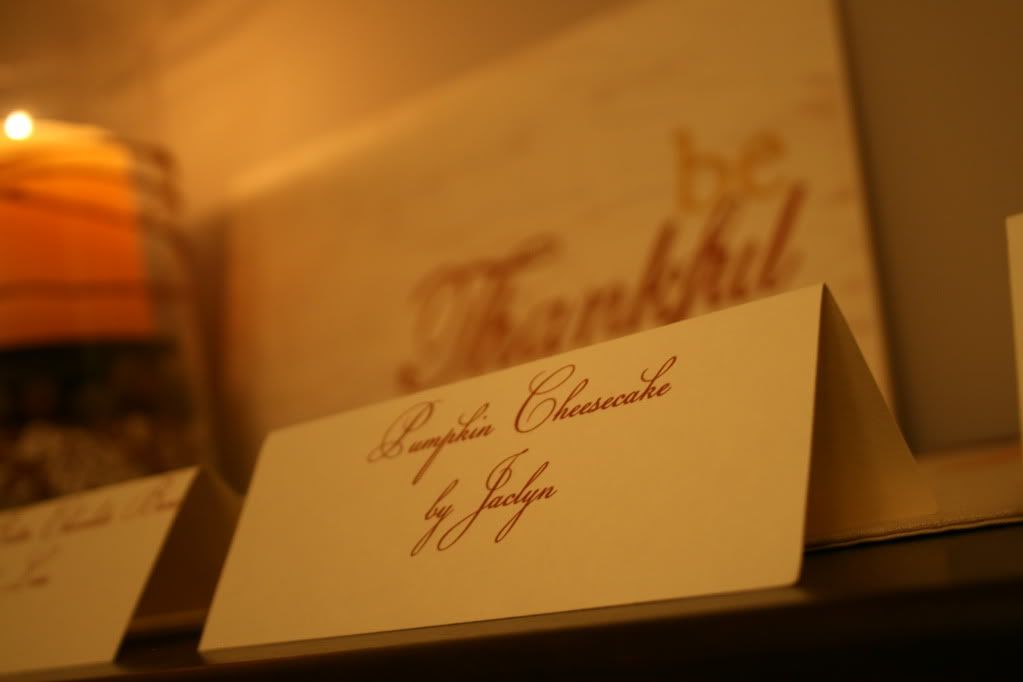 I love cooking a turkey. I really, really do. But when it comes time to carve, I move myself as far away as possible and wait for a hero to step in. Today's hero: Tricia.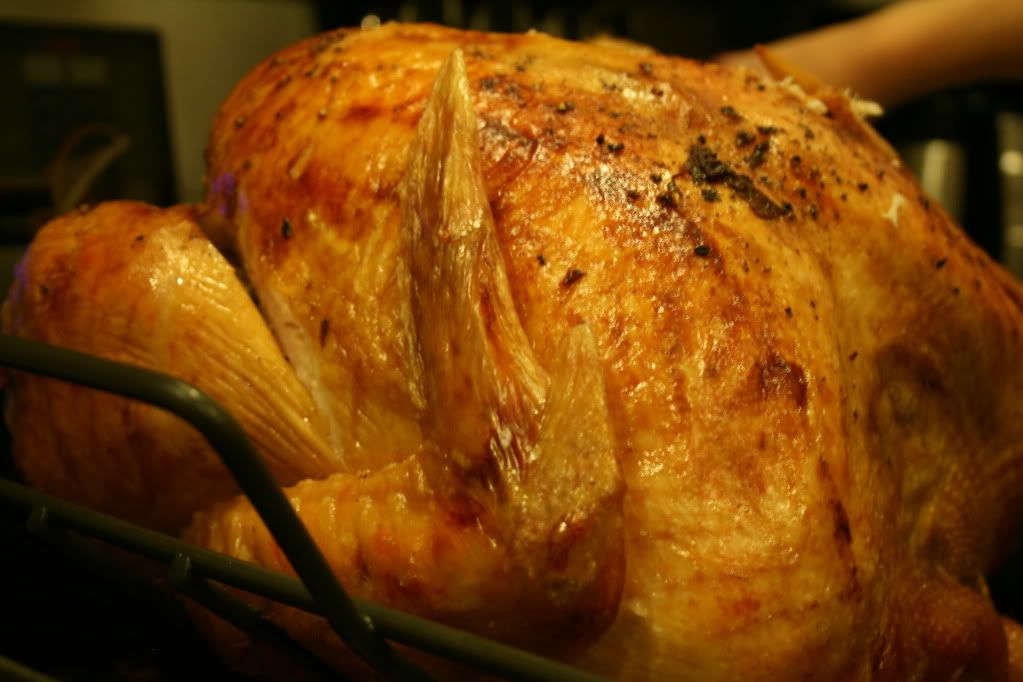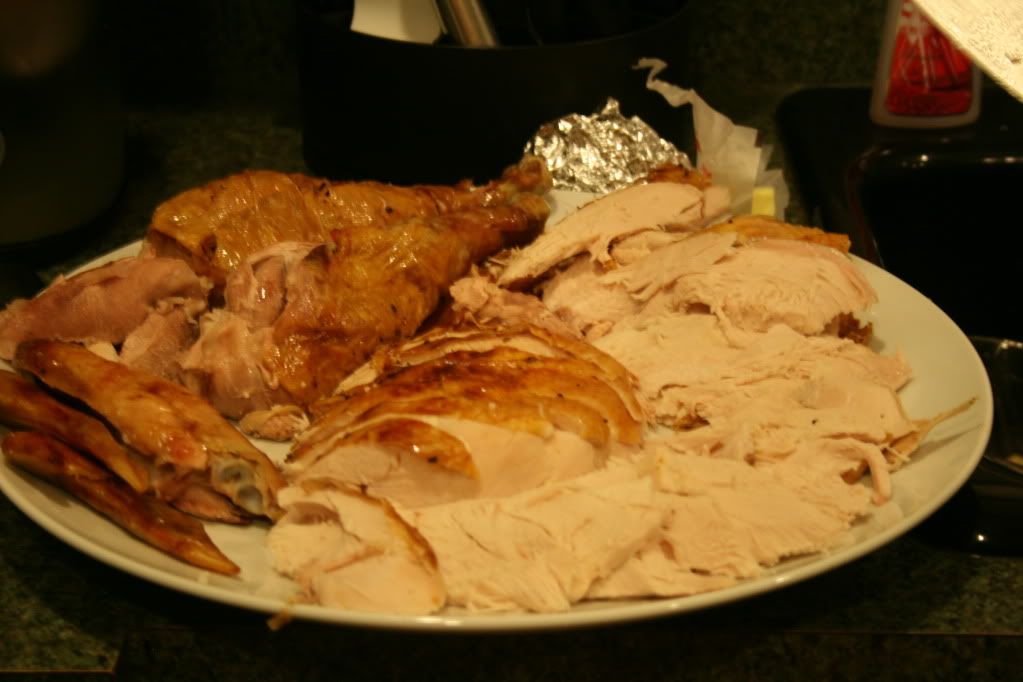 As the guests arrived, they just placed their dish by their name tag. Food!!!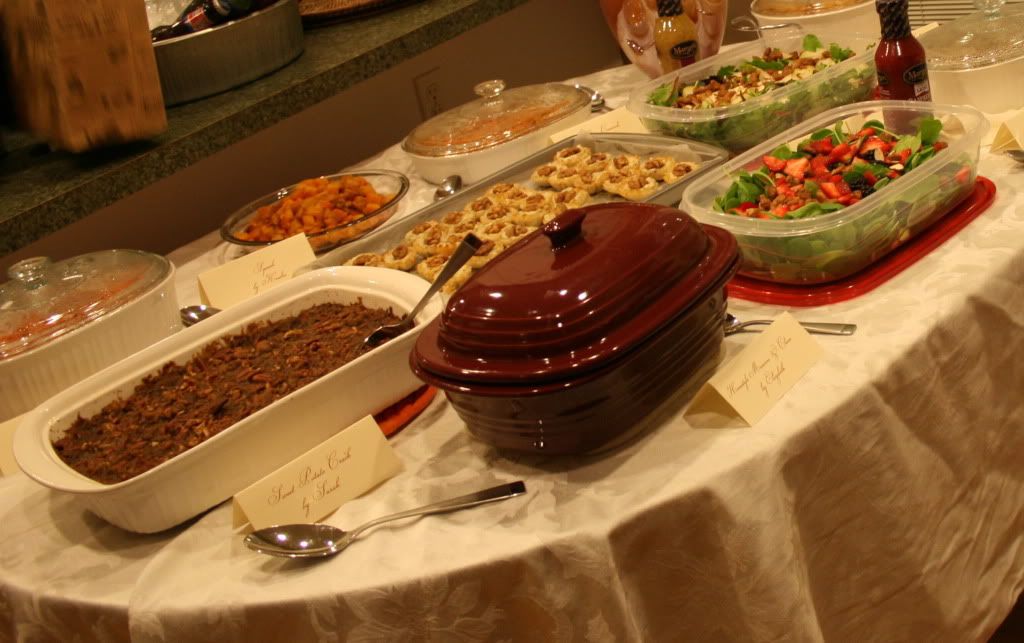 I had to keep my pictures quick, because Jess was not pleased I was making her wait to get to all that amazing food!
So that's the Mock Thanksgiving. How about some tips and tricks?
Send out your invites at least 3 weeks in advance. I think we settled on a date about 5 weeks out.
Keep track of who is bringing what. I basically asked everyone to request their two favorite dishes, and then figured out who should bring what. We purposely had a couple duplicates, but otherwise, you can see the assortment was fantastic!
The only item I cooked was the turkey + the gravy. My efforts were better spent on prepping the house. I do enjoy the occasional event where my guests don't lift a finger, but this is not that kind of event. The best part about Mock Thanksgiving is seeing what everyone wants to bring, tasting different versions of stuffing and sweet potatoes. Everyone has a favorite recipe, let them share it! Just make sure you have a variety.

I highly recommend printing up food name cards. Not only does it allow people to see who brought what, but it gives you a good idea of how much space you'll need for food.

As always, do as much the night before as possible. I had everything set up as much as I could so Saturday was easy going. Just some light cleaning and set up, plus cooking the prized bird.
Don't be afraid to go big. Was this a formal get together? Nope. Not even close. But was it comfortable, relaxing and great to just eat some good food with a bunch of gal pals? YUP!

A pot luck, buffet style party can be just as fancy looking as a formal event. OK...maybe not quite as fancy, but light some candles and put extra touches where you can. I've said it before; little details matter.
Kick back and enjoy! What's the fun in hosting if you are hustling around trying to make sure everything is going smoothly? Tricia was my right hand girl the entire night. Designate someone to help out with answering the door and making sure people have drinks. Just because you want to be the hostess with the mostest doesn't mean you have to be a solo worker bee!

Enough tips for you? Are you ready to host a big event? Not so much you say. OK, start small! With the holidays fast approaching (seriously...Thanksgiving is 4 days away!), set aside a weekend night and invite some friends over. I promise you'll enjoy it :)