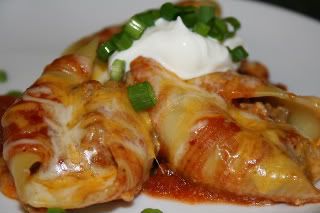 I stole this right off
Lindsay's Blog.
They looked to be right up our alley and they were! I cut this recipe in half and we barely had enough for the two of us. Next time I would definitely make the whole batch...but then again we like leftovers.
Ingredients
* 1 lb. ground beef (we used ground turkey)
* 1 package taco seasoning
* 4 oz. cream cheese (we used non-fat)
* 12 jumbo pasta shells (we used 16)
* 1 cup salsa (we used a little more)
* 1 cup taco sauce
* 1 cup cheddar cheese
* 1 cup monterey jack cheese
(we used 2 cups Sargento mexican blend)
* 1 1/2 cups crushed tortilla chips (we omitted)
* 3 green onions (chopped)
* Sour cream
Directions
1. In a frying pan cook ground beef; add taco seasoning and prepare according to package directions.
2. Add cream cheese, cover and simmer until cheese is melted. Blend well. Set aside and cool completely.
3. While ground beef is cooking, cook the pasta shells according to directions; drain. Set shells out individually on cutting board/baking sheet so that they don't stick together.
4. Pour salsa on bottom of 9x13 baking dish.
5. Stuff each shell with the meat mixture. Place shells in 9x13 pan open side up. Cover shells with taco sauce.
6. Cover with foil and bake for 30 minutes at 350 degrees.
7. After 30 minutes, add shredded cheese and bake for 10-15 more minutes.
8. Add any condiments you'd like (onions, black olives, etc.) Serve with sour cream and/or more salsa. Enjoy!