Week One Done! How did you do? Is your bed made? Is your sink empty? Quick...no one is looking- go do it now. Are you wondering what in the heck I'm talking about?
Go here
, it's not too late to join us! First off, your fearless leader will report in her results.
Week 1:
Make the Bed: 7/7
Empty the Sink: 7/7
Oh yeah, woo hoo, uh huh! 7/7 on both accounts.
And you didn't forget about our + did you? Or did you hope I would forget? Yeah, no luck there. Our Challenge Plus was to clean our kitchens. And I'll be honest, my kitchen has never been cleaner. And without this challenge, I would have stopped about half way through, or 3/4 of the way through, or even 90% of the way through, but I kept calm and cleaned on! And I also didn't forget that I promised photos, so let's get to that!
Before:
Ew.
The much MUCH better after: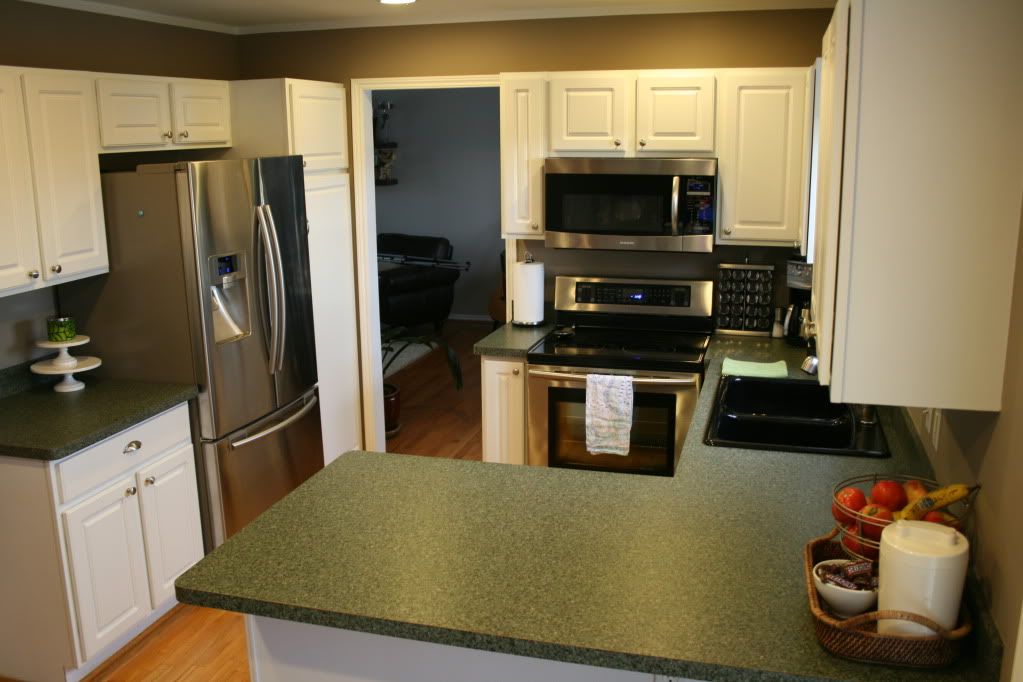 Week 1: Kitchen
Clean out the cupboards- interiors and exteriors
Wipe down all appliances
Clean windows
Clean blinds/drapery
Clean out fridge- interior, check for expired items, minimize to make room for holiday cooking/baking products
Clean out pantry- check for expired items and donate items you won't use to a food closet. Plus it will help take inventory for what you need for holiday cooking/baking
Deep clean counters and small appliances
Deep clean floors and garbage/recycling containers
I got everything done except for the pantry because we decided on some new projects in that general area, so I'm waiting until those are done. Of course I'll be sharing those later! But I did want to show you something fun. If you have white cupboards and haven't invested in Magic Erasers, please, do it now. The right side is the before, the left side is the after:
Also, a life saving product for storing my pots and pans are these protectors. Mine are from The Pampered Chef, but I know you can buy them other places too. They are great and allow me to stack my pots and pans without damaging them, love them!
Now, of course, we need to add two more tasks, but you are all determined individuals, so I know you can handle it!
Clear the Clutter!
I'm not talking about your whole house, that would be quite a task. I'm not even talking about half of your house, simply one room. Pick one room a night to clear the clutter. It can even be the same room every night- your choice. But choose one room to get in tip top shape. I like to focus on the family room as it's the one that sees the most action and displacing of items. I usually have to put away my camera, cords, dishes, Cam's toys and whatever other items I was using for the day. Leaving that room in order before going to bed means you get to wake up to a perfectly clean space, ready for a day of action!
My main reasoning for this is that it forces you to give everything a home. This way, when you have guests coming over, it's not a mad dash to hide things under the bed, in the back of closets or who knows where! It's simply putting things back where they belong. If this seems like a daunting task, just spend 5 minutes a night decluttering until the space is in pristine order. Then it's just maintaining!
This task honestly takes 2 minutes, but makes such a difference. I know with a dog, and a crawling baby, this one is important to me. I spend a lot of time in the kitchen throughout the day, which, inevitably, means stuff ends up on the floor. Sweeping the kitchen daily keeps that dust and debris from making it to other areas of the house. Just a quick sweep with a broom or a dry Swiffer type product is all it needs. If I use the Swiffer, I can easily just use the same dusting pad for the whole week. No need to use a new one every day!
Challenge PLUS:
Week 2: Dining Spaces
Clean the furniture
Clean the windows/blinds
Deep clean the floors/Vacuum the rugs
Dust the lighting
Hopefully the dining spaces is a little less of a task than the kitchen, that way if you have some ground to make up from last week, you are able to fit it in this week!
So there we have it. Our two new tasks to add on to our tasks from last week and our Challenge PLUS. Let's recap, and don't forget, we aren't replacing tasks here, but adding!
Week 1:
Make the Bed & Empty the Sink + the Kitchen!
Week 2:
Clear the Clutter & Sweep the Kitchen Floor + Dining Spaces!
But now it's your turn! Share your blog post link below with your results and your before and after photos! Don't have a blog? Tell us your results in the comments and if you have before and after photos, post them to the My Happy House Facebook Page!
Can't wait to see how you all did.
And as always, if ya'll love me, one click shows it!