I was asked to review a Scentsy Warmer, and of course I jumped at the chance! I've never used one before. Heck, I had never even seen one before, but I've heard a ton about them! And every time I've heard something about them, it's always a rave, so I wanted to check this out for myself. I received this warmer, Fizz, and the Pumpkin Marshmallow scent.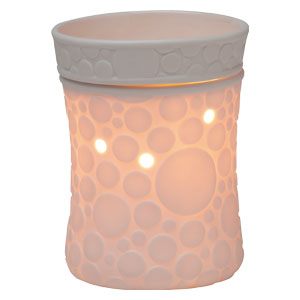 We are new friends. This thing is amazing. Let me tell you why.
1. The scent is strong, or soft. It all depends on how much of the scent bar you use, and I like that. Complete control...bwahahahaha!
2. It starts working almost immediately. A few minutes after I turned it on, I was smelling Fall. Awesome!
3. It's safe. The heat to melt the wax is provided through a light bulb. No open flame to worry about!
The cons? I suppose the only con is that I didn't try it sooner! But have no fear, I can help you avoid that con!
Sandy Storck
was gracious enough not only to let me review a warmer, but to give one of the Scentsy Plug In Warmers away to my wonderful readers!
Check them out here!
You can enter 8 different ways, just follow the instructions through the Rafflecopter widget below. It's seriously easy, I promise. The first two are mandatory, but after that, it's up to you how many ways you enter. You can even Tweet about the giveaway each day for a week for a daily entry! The giveaway ends next Wednesday, so be sure to check back in and see if you are the winner.
Good Luck!