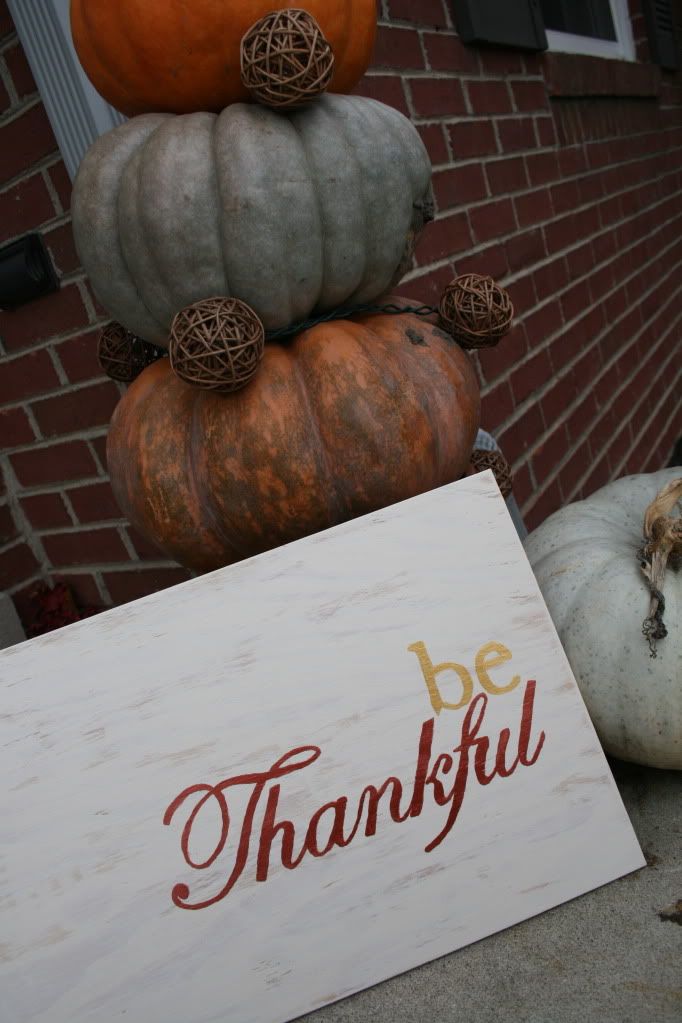 How cute is my little sign? Cute huh? After browsing around Pinterest and seeing tons of cute little holiday signs, I decided I needed to make my own. I especially decided I would be making it since they can cost upwards of $70. $70. I am not even kidding. I made mine for less than $17. I say less than because I have more supplies than I really need, and let's just say I have enough to make more signs :)
What you need:
A piece of plywood, cut to 18in x 11 1/4in
Antique White Paint
Colored paint of your choice
A foam brush
Small paint brushes
Carbon Paper
1. Give the plywood a light sanding, wipe off dust
2. Using the foam brush, paint the wood with the Antique White paint. Use long strokes and if you want the rustic look, don't worry about complete coverage. Allow that to dry for one hour.

3. Decide on a saying, font and placement of your saying. I chose "be Thankful." The "be" is Baskerville, font size 200. The "Thankful" is Edwardian Script, font size 288. You can easily download different fonts at websites like www.dafont.com.

4. Print the saying out, and cut it down to the word. It doesn't have to be perfect, just cut off the major excess.
5. Tape the saying on your board as you want it, (I just did one word at a time) and place the carbon paper, carbon facing down, under your piece of paper. Trace the outline of your word.
6. Remove the carbon paper, and paint your traced word.
7. Repeat steps 4-6 until your words are complete.
8. Give your words at least 2 coats of paint to really have full coverage.
I haven't given it permanent home yet, but I'm having fun trying it out in new spots around the house! I'll have to figure out where it will go before Saturday's Mock Thanksgiving though! So that's it. Are you going to make your own sign? Are you following my little sign's advice? Be thankful :)

I'm linking up at the....