I've received one question multiple times:
I've wanted to answer it for awhile, and finally got the kick in the butt I needed when my dear friend Elizabeth asked me to guest post over at
her blog, Our Life
. Go check it out and give her some love! If you've already been there this week, the following might be a repeat for you. If not, read on to see just how I organize all Cam's clothing!
Tiny clothes are adorable, but for some reason, at first, I was thrown for a loop when it came to organizing them. I finally got in a good groove, but I'll be honest, something about making the clothes smaller made them more daunting for me. What I've found that works for me is using his closet for the most part, but a good closet organizer is a must in my opinion! We bought the Rubbermaid System that is sold at Lowe's, and it was easy, or I suppose it looked easy to install. Carl does all the hard labor around here, other than the cleaning, and having babies I suppose.
First, let's get a reminder of Cam's room.
Now, onto the task at hand. I keep Cam's current size in the top middle section, and then the upcoming size to the bottom left. I like to do it this way because more often than not, it seems like he is bridging two sizes, especially depending on the brand of clothing. I also use two bins for his laundry. I wait until I have a full load, take the bin downstairs, and use it to carry all the folded laundry back upstairs. Sometimes I don't get the whole process done in one day, so I like having two :)
These two drawers are really useful for items that don't hang well. I've labeled it pretty thoroughly so no further explanation here.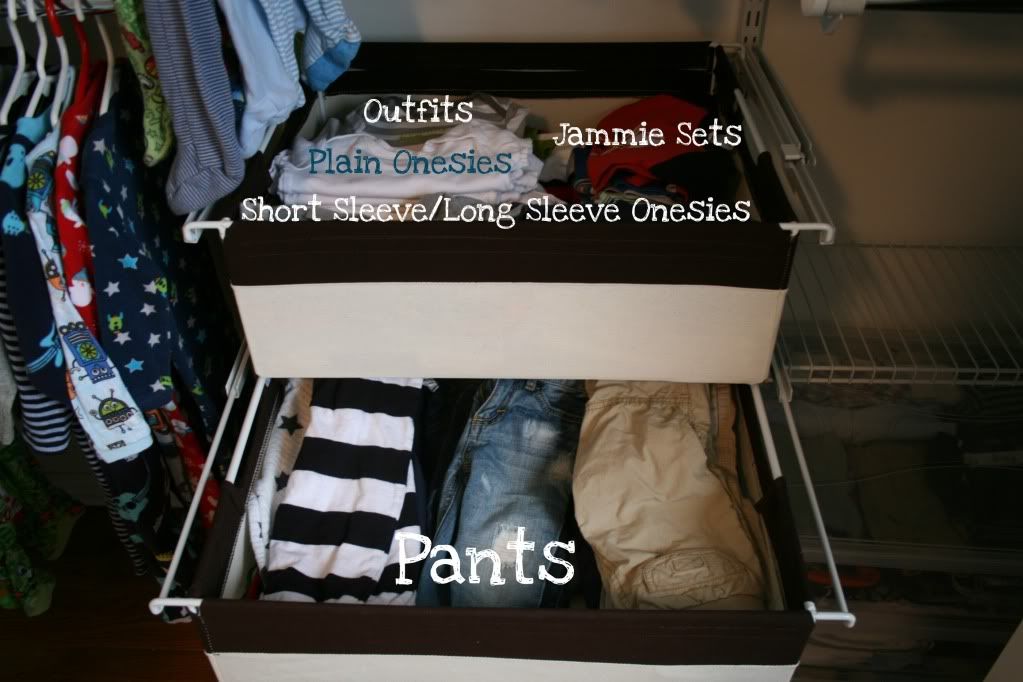 Right now, Cam is able to fit in 6-12mo and 12-18mo, so I'm already having him rock the sleepers on the bottom left. One is a winter snowman one which is making me ridiculously excited for the holidays! Up top is one of my favorite gifts we've received. My sister buys each niece, nephew and her own kids one of these bags. My Godson/nephew chose the blue color. We use this bag all the time! It's perfect for 1-3 night stays.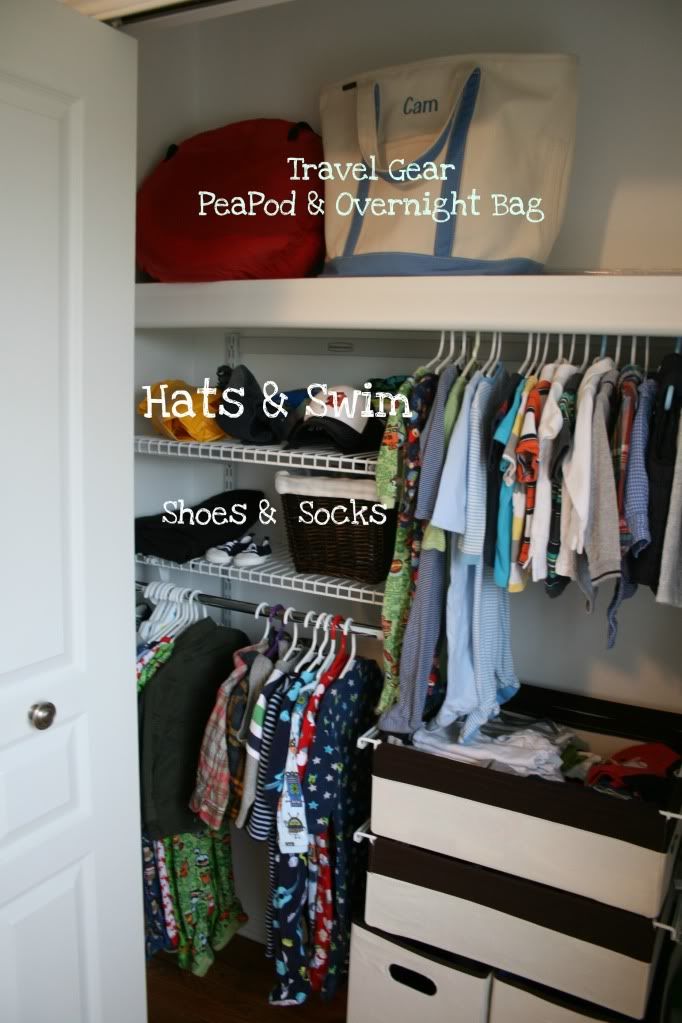 Bottom right are storage bins. The bins of tears, because I cry when I have to put away itty bitty clothes when my chunka chunk moves up a size. We have a spot in the basement for these, but things are a bit of a disaster down there right now, so I'm storing them in his closet since we have the space. The shelf is where I store clothes that are further out, like a year+ down the road. I have issues with clearance racks. Really, really, big issues.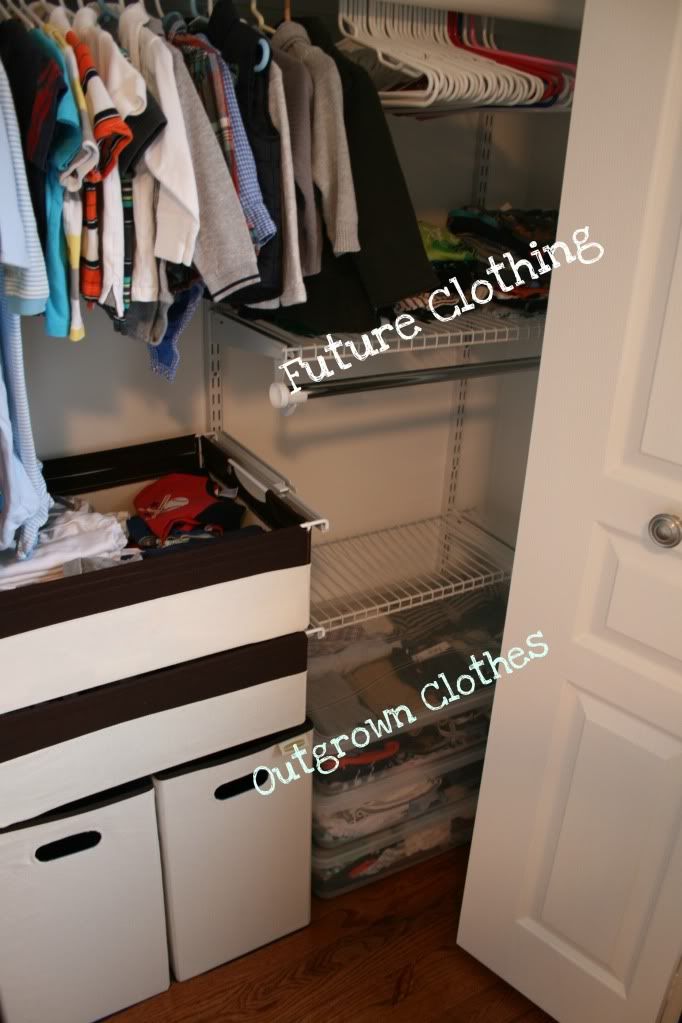 The only other clothing type storage we have is the Hemnes dresser from Ikea. It also doubles as our changing table. If you are looking for an all purpose piece that will grow with your little one, look no further! I love this dresser! And wait until you see how much it stores.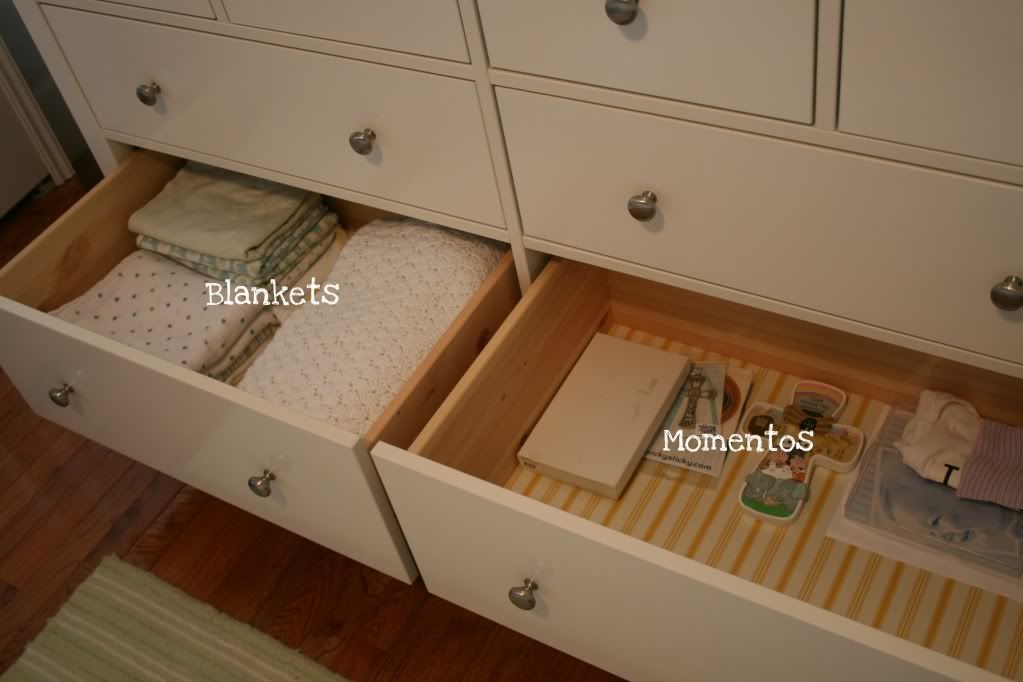 Oh, I lied. There is one other piece of storage. Carl and his Dad made Cam's crib. Yeah. I'm kind of lucky in the "the men in my life know how to build stuff and stuff" way. I requested a specific crib design because it had more storage. The crib sits on a base with two drawers.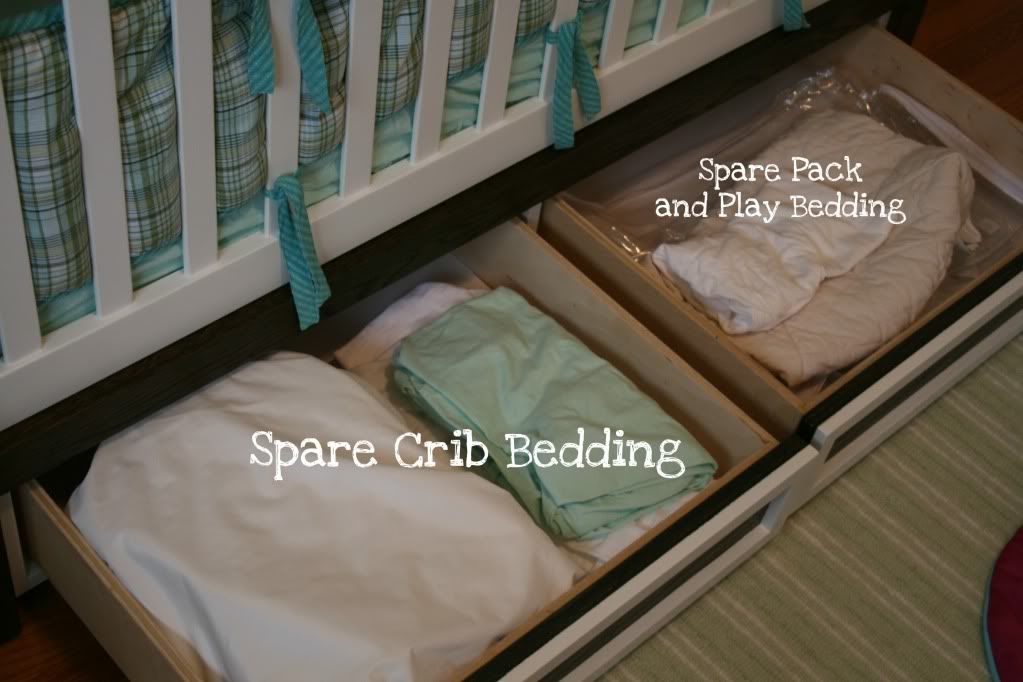 We don't keep a lot of toys in Cam's room, but what few ones we do, we keep on his custom made built-in bookcase made, again, lovingly by Carl and his Dad.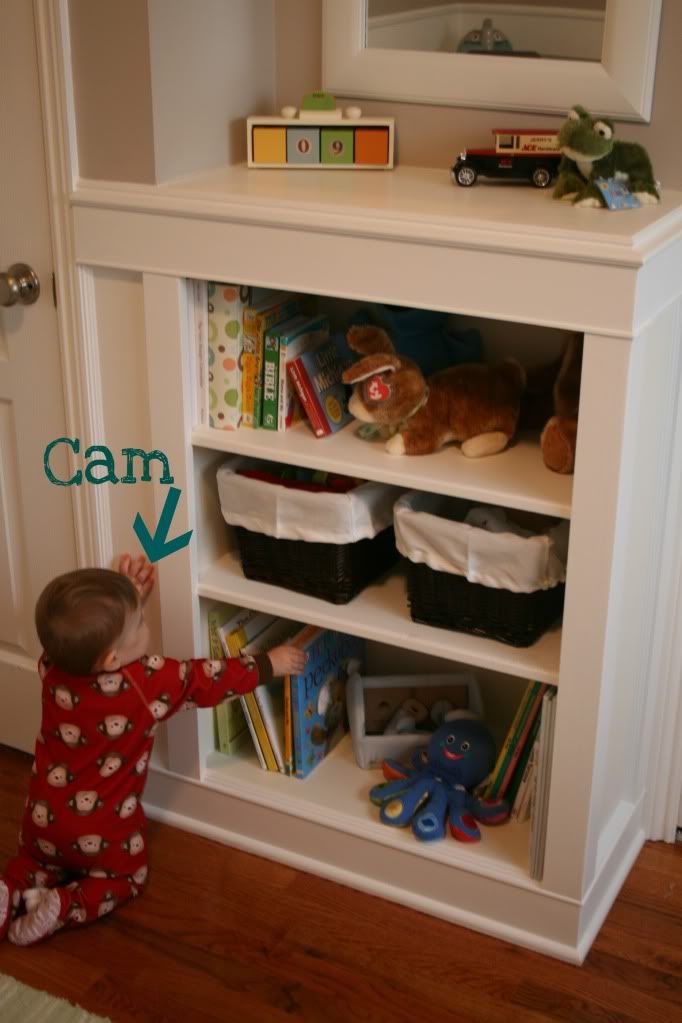 Are you inspired? Is your closet, or maybe your little one's closet about to get organized? I hope this is the answer some of you were looking for, and if you need further explanation on anything, you know you can just ask!