As we were eating our 3rd, and what should have been our final, Thanksgiving dinner up at the cabin, I told Carl I needed more. Just one more turkey dinner, with all the fixings, and I'd be set. I decided to buy a turkey when we got home, invite a couple of friends over and enjoy Thanksgiving one more time!
I wasn't going to do anything with the table, but at the last minute just dressed it up a bit to welcome in the Christmas season. I just used things I had from last year and regular season items as well. Just goes to show you can entertain any time for any reason. It was a mix of fancy and casual and completely delicious!
The menu was seriously traditional:
Roast Turkey and Drippings Gravy
Creamy Mashed Potatoes
Homemade Sweet & Savory Stuffing
Green Bean Casserole
Cranberry Sauce
Wine
Ice Water
My day went a little something like this:
2:30p start the stuffing and prep the turkey
3p: Start the turkey (8.5lb turkey to be done about 6:30p in time to rest and carve)
5p: peel and cut potatoes, put in water to keep from browning
5:30p put together green bean casserole
6p: set the table, wine in the decanter, ice water in the carafe
6:30p boil and mash potatoes, take turkey out and cover with aluminum foil, put casserole and stuffing in the oven
7p: light candles, guests arrive, carve turkey, get everything on the table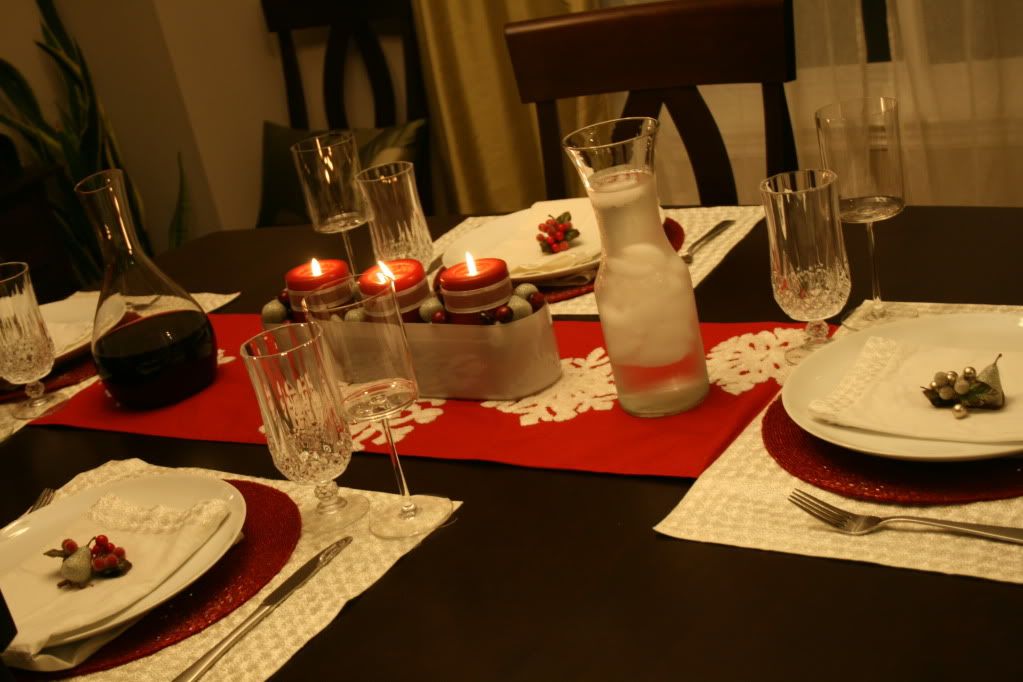 If you are hosting this year, here is my quick guideline for entertaining.
1-2 weeks out: Choose the Menu
2-3 days before: Grocery Shop
1-2 days before: Prep your table to be sure you aren't missing anything
1 day before: Do as much cleaning as possible
Day of: Start cooking early, be sure to leave time to get ready and enjoy!