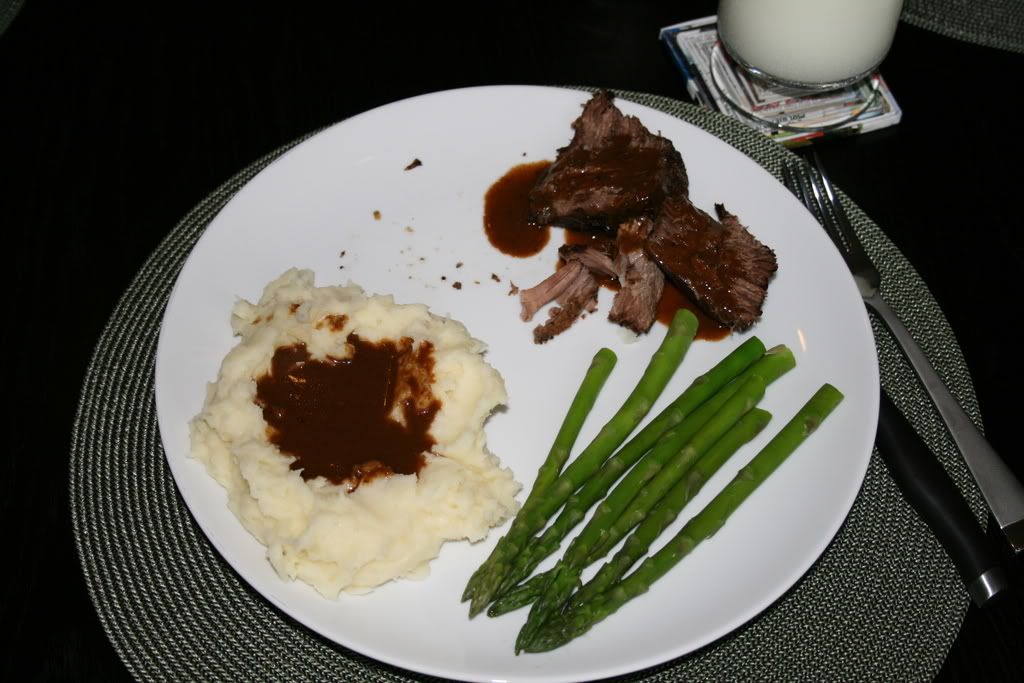 Through and through, I will take a good red meat and potato over just about anything else I'm offered. So when I realized I had all day today to make dinner, I opened my slow cooker cook book and landed on "Spicy Beef Roast." I chose mashed potatoes and asparagus as the side dishes and it turned out really well.
The Spicy Beef Roast really wasn't spicy but it definitely had a LOT of flavor. It calls for a 3lb roast, but I bought a 4lb roast, cut it in half, food saved one part and cooked the other. It made enough for 4 people. So the saying is true, about 1/2 lb per person.
Ingredients:
3 lb round tip roast
1 tbs cracked black peppercorns
3 cloves garlic, minced
3 tbs Balsamic vinegar
1/4 cup soy sauce
2 tbs Worcestershire sauce
2 tsp dry mustard
Instructions:
Rub the cracked pepper and garlic into the roast. Place the roast in the Crock Pot and make several shallow slits in the top of the roast. In a small bowl, combine the remaining ingredients and pour over the meat. Cover, cook low for 8-10 hours or high for 4-5.
My notes: Like I said, I used a 2 lb roast, but still followed the sauce instructions. 3 hours on high was plenty of time. I also turned the roast about every hour. Then when it was done, I added about half a cup of flour to the leftover sauce and it made a very flavorful gravy for the mashed potatoes and put more juice into the meat. I steamed the asparagus for 11 minutes (perfect) and used my handy Kitchen Aid for the mashed potatoes. Overall, the meal gets a 10!