I had the toughest time finishing the dining and living room fall decor. It was my hang up for the last couple weeks. I'd walk in there, rearrange, create, sit back, evaluate, raise my brow and walk out with no improvement from when I walked in there. It was this weekend that I decided enough was enough and I was finishing it. Well, I almost met my goal, but I suppose I have a little more time to finish before the weekend is over. The only area left to do is the sideboard. But I felt I should reward myself for at least getting the table and shelves done by featuring them this Sunday morning.
The living room shelves are where we focus on some family photos, but it's also a fun spot to decorate for the holidays :)
I'm just loving Indian corn. I took three ears of it, bound it up with some bronze ribbon and placed it in a square glass vase filled with our "important corks." They are just the corks we've collected from important events in our lives.
*Little tip on Indian Corn. If you want to manipulate the husks, just soak the corn for a few minutes, it will soften the husks enough to move them around without breaking. Just be sure to dry the corn out completely.
I just love this sweet little ivory pumpkin, so he gets a close up :)
Some simple decorative sticks and a rust colored ribbon dress up a rectangle glass vase.
Last close up: Pedestal candy jars each with a pillar candle, surrounded by natural pine cones that I snatched from my very own back yard :) Then I just used some raffia to attach the antique (right...) keys from PB.
I love Pinterest. It helped inspire the center piece to my dining table. The layers are split peas, mixed beans and some faux acorns, and then it's tied up with some twine from Carl's stash of... twine I guess. Then I just carried the twine over and added some faux leaves to embellish the simple ivory pillar candle holders. I wanted to keep this simple because I'm hosting a Mock Thanksgiving, and we're going to need lots of room for food!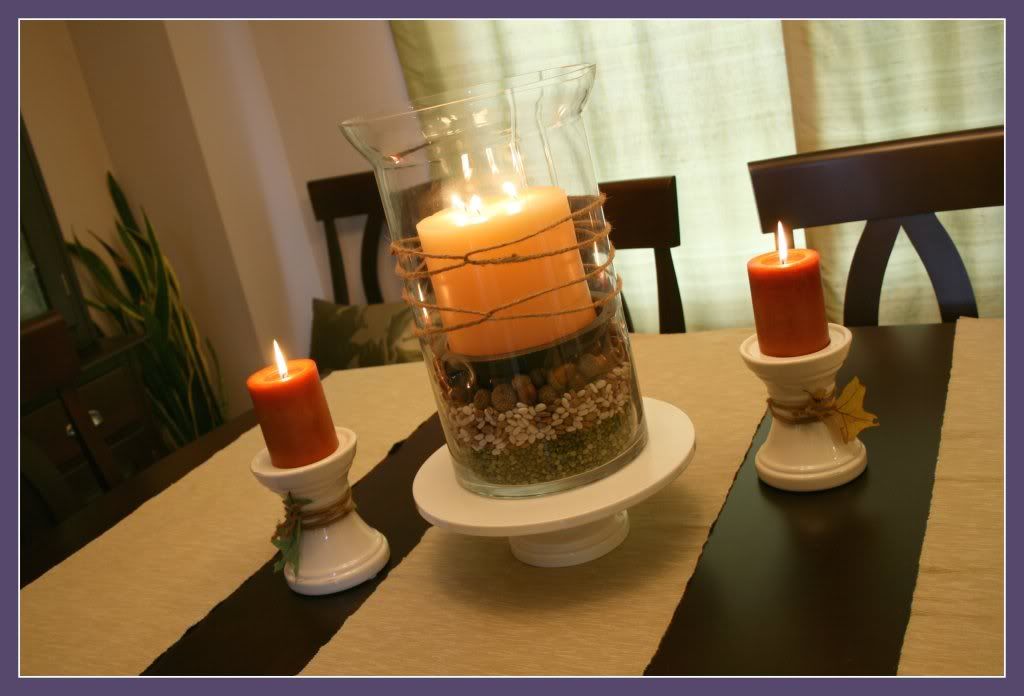 That's it for now! I suppose I'll attempt to finish the sideboard and then perhaps I'll do a complete 2011 Fall Decor Round Up post to put it all together. Now...if the wind would slow down a bit and stop knocking over
my mums and corn stalks
!!!!