Time to stop being a tease on one front. Our front. The front of our house. And the back for that matter. We had some
landscaping done back in 2009
. After that, our exterior was pretty neglected. Carl does a nice job of making sure we have a sweet lawn situation, but otherwise, it was getting rough. I have a hard time paying for a service like this when I know we could do it ourselves. But seeing how much work we needed done, and the time it would take, we realized that just wasn't in the cards. Plus, we really like the landscaping company we use, so that helped make up our minds. Anyway! Pictures, I know, you want the pictures.
Before:
The front of the house. I love our Japanese Maple and the Birch, but they were getting out of control. That was one of the things we really couldn't have even done if we wanted to do it. It helped sway us to just getting the landscaper. The Burning Bushes had gotten insane. We tried trimming them back before, but those poor guys just couldn't keep their cool. And it's hard to tell, but our mulch was almost non-existent. The front of the house was pretty close to embarrassing.
This is the back of the yard. Just ignore the guys. I couldn't remember if I had a decent back yard shot and wanted to snag one at the last minute. They were already bringing in some of the materials. We planted the Evergreen and Fir in 2009 and they've done great! But we always knew we wanted more privacy back there. We really enjoy spending time out in the yard in the warmer months, and while our side privacy is pretty good due to other landscaping, the back was still pretty open.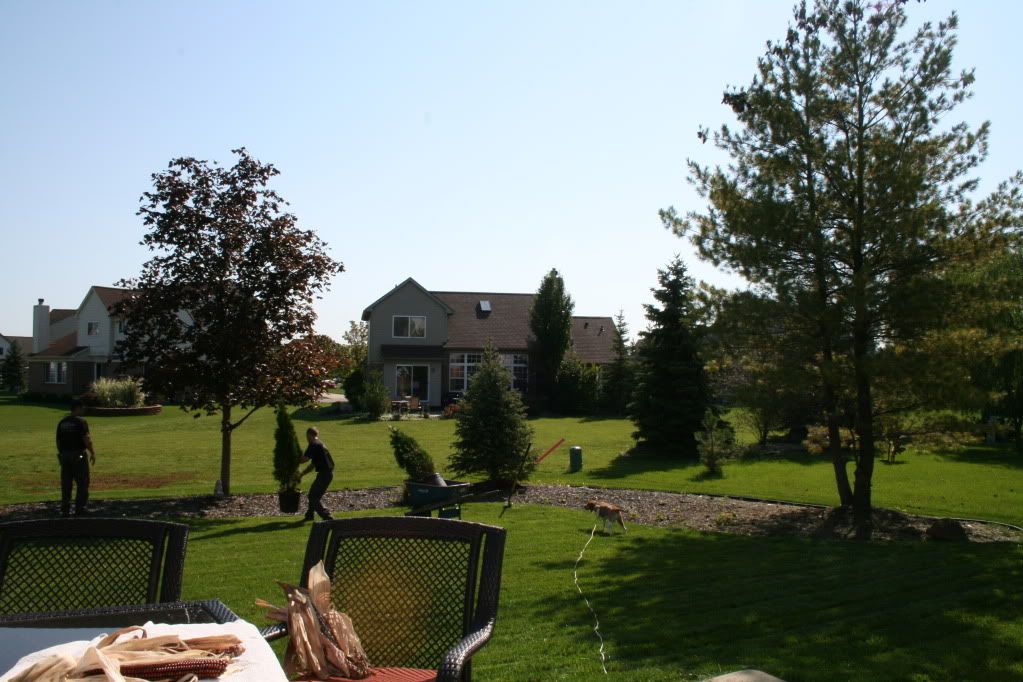 AFTER:
Trees trimmed up, bushes hacked and TONS of mulch was brought into the front bed. They also cleaned up the edging. I should have got some better shots, it makes a huge difference. And you might be wondering what in the heck we're doing with those bushes. It was either this or pull them out. I chose this. I love those bushes and wasn't ready to get rid of them. It'll take a couple years for them to really bounce back, but they will look so much better when they do! They will start to bud up in the spring, so I'm anxious to see what happens with them!
And here's the back yard. We still have more filler plans, but for now, we're pretty stoked about our wall, or soon to be wall, of Arborvitaes.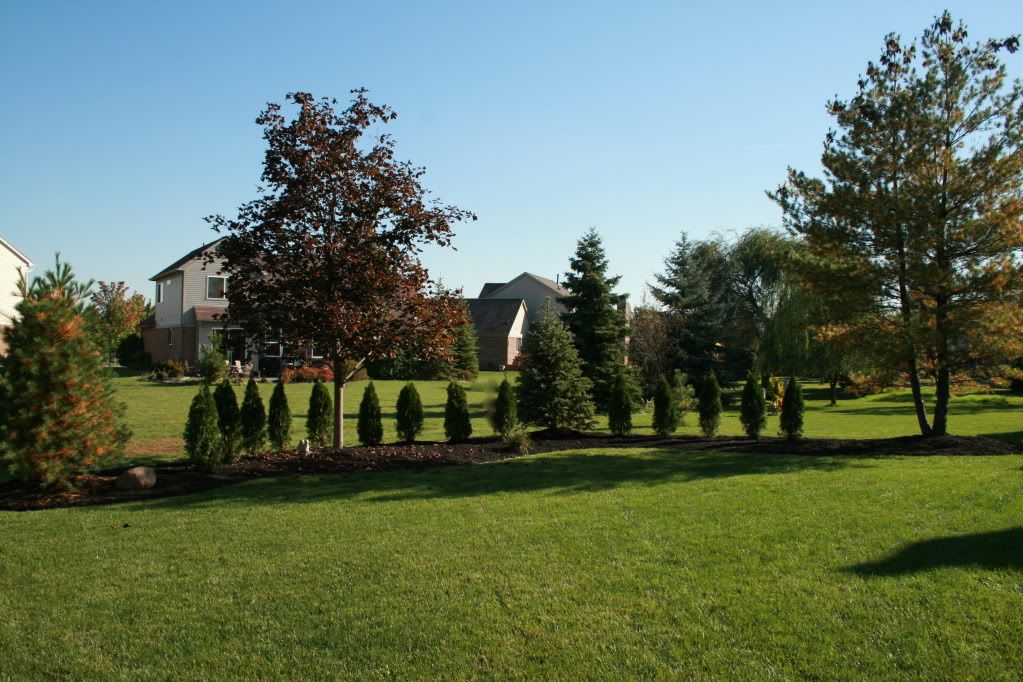 And while we're outside, you might have noticed in the photos up there that the porch looks a little different than when I posted it the other week. I changed up the exterior a bit. This is one case where more is better. It gets me all excited for cool weather and Trick or Treaters!
So that's that. I'm still being a tease on my other photo, but that won't last long. I'm excited to share that with you too!