(This post is text heavy and I apologize for that, but there is good info all the way through, promise!)
I've been talking about them a bit around here lately, and it's no secret that they are coming up fast. The holidays. Yep. We're talking about them now. Let's all just get used to it, k? One way to alleviate the stress of the holidays, especially if you are the host for any gatherings, is to keep up on your home's cleanliness so that when your big events roll around, you aren't frantically trying to clean your house from top to bottom.
Next week, we will be roughly 5 weeks away from Thanksgiving. You know what takes 5 weeks? Uh huh, the EXPRESS HAPPY HOUSE CHALLENGE!!! That's right folks! We're going to get our houses in shape before the holidays so that when the time comes, we can sit back and enjoy them knowing we have clean, happy houses!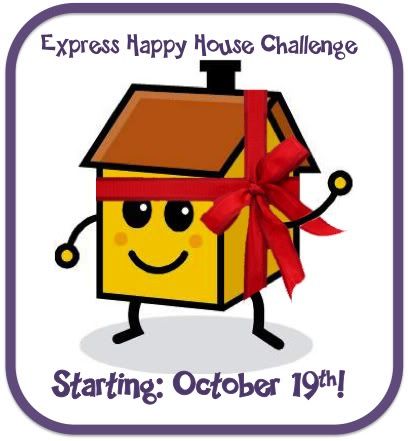 This challenge will be run like the last Express Happy House Challenge. 2 new tasks added each week, for 5 weeks, totaling 10 daily tasks to keep our homes in good shape. BUT, since we are prepping for the big season, we're going to add one more piece.
Each week, I'll give you your two tasks, PLUS one room to deep clean.
By the end of the 5 weeks, your family will be wondering if they are at your house of if somehow they've found their way to Martha's estate.
So, I know you are up for the challenge. And trust me, it's way more fun to clean when you have a bunch of blogging friends to join you. Really, it won't be the same if you aren't there. So tell me, are you in? I'm giving you a full week (and a day) to get geared up for the challenge. We'll start next Wednesday.
Now, there is one more piece to this, if you care to join. It will be a Blog Hop Photo Challenge as well. We'll take pictures of our designated rooms showing the before and after. Then create a post to show all our hard work. It'll be a great chance to see new spaces (real ones- my favorite!) and make new blogging friends. And no worries if you don't keep a blog, you can share your photos on the My Happy House Facebook page!
Share the challenge button on your blog and inspire YOUR readers to join in the challenge. It's going to be a good one!
Just copy this link and add it to the HTML section of your blog!
<a href="http://myhappycasa.blogspot.com/" target="_blank"><img style="width: 231px; height: 230px;" src="http://i233.photobucket.com/albums/ee238/mjrotole/MHHChallengePreviewButton.jpg" /></a>