.....the Happy House gives to you....finished oodles of treats!
I want to share my Christmas Eve table with you, but I didn't get my pictures yet. So, instead, we're revisiting Day 11. Here are yesterday's treats all done up! (Recipes Below)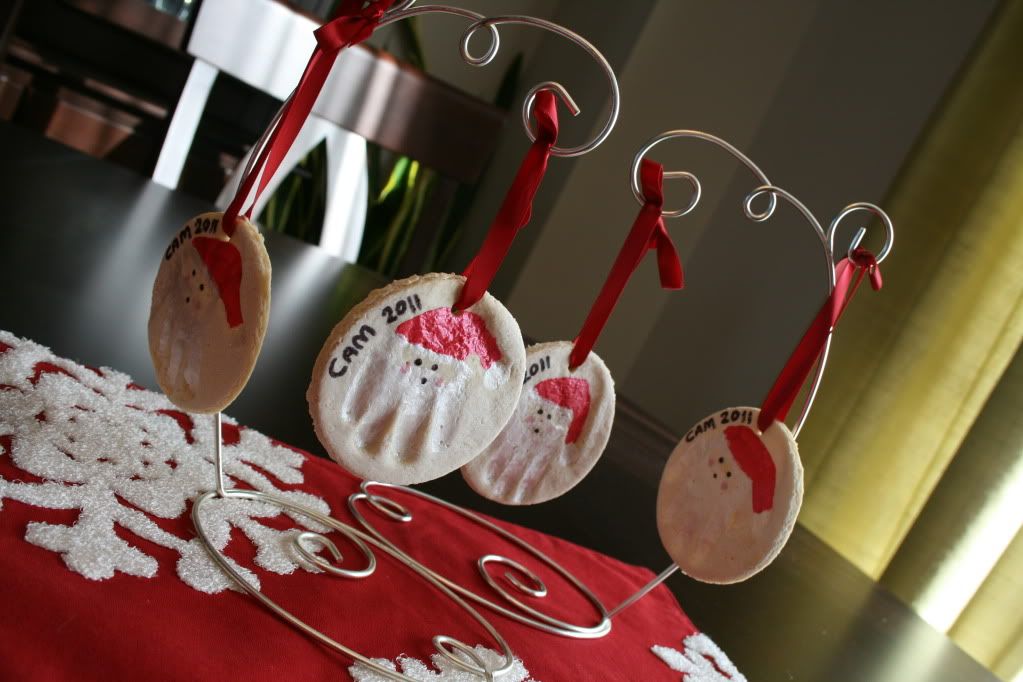 Roasted Cinnamon Almonds
Almonds: 8 Cups
Cinnamon: 1 tsp
Sugar: 1 cup
Salt: 1/2 tsp
Water: 2 tsp
2 Egg Whites
So what do you do? It's easy! And you'll never pay $8 for the almonds at the mall again, promise!
Preheat the oven to 250 degrees and lightly coat a large jelly roll pan with nonstick spray. Whisk the egg white and water just until frothy. Dump in the almonds and coat them in the egg. Mix together the sugar, cinnamon and salt. Sprinkle the mixture over the almonds and toss to coat. Place them in the oven for an hour, flipping the almonds every 15 minutes. Allow them to cool and store them in an airtight container. (I like to use our vacuum saver for this!)
Hot Cocoa Mix

11 Cups Dry Non-fat Milk
1 Cup Dry Creamer
3 Cups Powdered Sugar
2 Cups Chocolate Drink Mix (Like Nesquik)
1/4 Cup of Cocoa
Mix all the dry ingredients together. The ratio is 1/3c mix to 2/3c hot water.
Santa Handprint Ornaments
I followed
these
instructions for the ornaments and painted with acrylic paints.